Filled with colors, flavors, vitamin D and magnesium, these sweet potato gnocchi will please youngsters as well as grownups !
Fill one third of the Vitaliseur's vat with water and boil. Remove the skin from poultry breasts. Lay the breasts on a plate and season with a bit of coarse salt. Leave to chill for an hour at room temperature. Cut them in dices and cook them on the Vitaliseur's sieve for 5-6 minutes. Put aside on a plate and clingfilm it to avoid drying.
Peel the carrots, cut the mushrooms in 4, peel and cut the leeks in 3 cm sections, peel the turnips and cut them in 2 or 4, then remove the first skin of onions.
Cut with a peeler or a slicer the carrots and zucchinis into thin strips.
Fill one third of the Vitaliseur's vat with water and boil. Cook all vegetables on the Vitaliseur's sieve following the cooking times from the ingredient list. Put them aside in a dish.
For the sauce, dilute the cornstarch with a little cold water. Boil the broth in a saucepan. Add the cornstarch progressively to avoid the sauce to be too thick.
Once the sauce has reached a nice texture, add the well whipped cream, season then add the poultry breasts and cook for 2-3 minutes. Heat back all vegetables in a bowl places on the Vitaliseur's sieve for 3 to 4 minutes.
For presentation, take 4 soup plates, distribute the vegetables in each plate, add the poultry breasts along some sauce, decorate with carrot tops and gently stir together.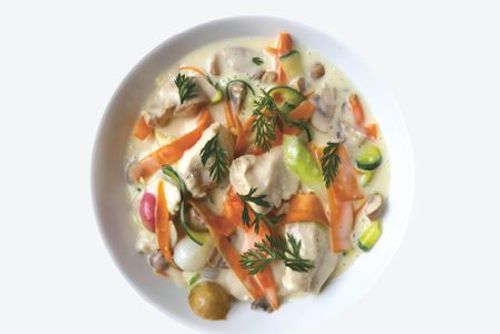 Preparation
25 min
Cooking
20 min
Ingredients
for 4 people
4 organic poultry breasts (5-6 min cooking)
2 carrots (5 min cooking)
200 gr of button mushrooms (8 min cooking)
2 small leeks (5-6 min cooking)
4 round turnips (9-10 min cooking)
8 onions in bunch (10-12 min cooking)
1 zucchini (3 min cooking)
60 gr of cornstarch
200 gr of ewe's crème fraiche
50 cl of poultry broth