Fill a quarter of the Vitaliseur's vat with water and boil.
Cook on the sieve the spinach and 2 bunches of watercress for 3 to 5 minutes. Mix directly. Put the watercress purée aside in the fridge.
Cook the cabbage leaves for 2 to 3 minutes, then put them to dry for 8 hours on a pastry tray in an oven at 70°C.
Once they're well dry, turn them to powder with a blender and put aside in a dry place.
Sweat the green vegetables in a frying pan with a bit of hazelnut oil.
At the bottom of the plate, lay some watercress purée and cook the scallops at the last minute or 1 minute with the Vitaliseur. After cooking, sprinkle them with lime zest, cabbage powder and fennel shoots.
Finish the presentation by laying agastache leaves, remaining watercress and the flowers. Add a dash of olive oil and ground a bit of pepper.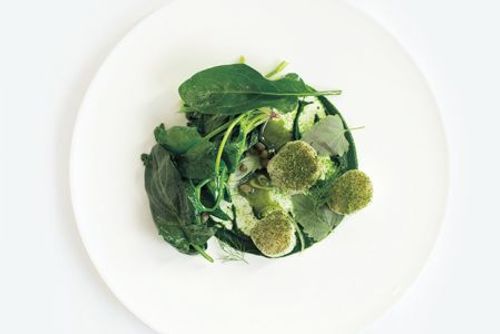 Preparation
30 min
Cooking
15 min
Ingredients
for 4 people
16 Fresh scallops
1 green cabbage
100 gr of green spinach (for purée)
2 bunches of watercress (for purée)
2 bunches of watercress (for presentation)
Elderberry flowers or other edible flowers
Olive oil
Zest from 1 lime
salt, pepper
3 or 4 agastache leaves
Wild fennel shoots
Various green vegetables (fresh spinach, long thin broccoli, mizen)
Hazelnut oil