Unconventional method for preparing a risotto, but which has the merit of requiring little supervision.
Fill a quarter of the Vitaliseur's vat with water and boil.
Break the penny buns with your hands and lay them in a salad bowl filled with 750 gr of lukewarm water. Leave to soak for 1 hour.
Cut the shallot in brunoise and put it in the tureen with a dash of olive oil and a little bit of salt.
Place the tureen on the Vitaliseur's vat and cook for 10 minutes, checking from time to time.
Add rice, penny buns and 500 gr of soaking water. Salt and put back the tureen in the vat, uncovered. Cook slowly and stir every now and then.
After 25 minutes cooking, check the rice. If it is cooked, add one good tablespoon of ghee (or vegetal butter) and stir swiftly to make the risotto creamy. Add 1 ladle or 2 of penny bun soaking water, if necessary, in order to get a really creamy risotto.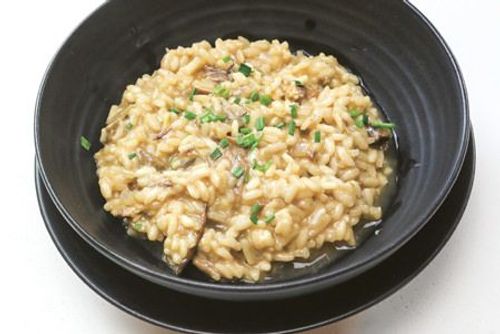 Preparation
65 min
Cooking
25 min
Ingredients
for 3-4 people
200 gr of Arborio rice
1 shallot
20 gr of dry penny buns
Olive oil
Ghee or vegetal butter
Salt